What does your online reputation reveal?
CyberSafeFamily was formed to educate students and their parents on internet safety and responsibility. We believe education is the key to keep kids safe online.  Parents are learning today's digital gadgets and technology, while our kids are growing up with it.  Parents are looking for help with their new digital parenting role.  
We know many parents are intimidated by today's technology and the latest gadgets.  CyberSafeFamily can help.
We research the latest technology and youth trends from blogs, reports, interviews and my network of Internet Safety and Responsibility Advocates.  We give you easy to understand solutions to help you provide a safe online home environment.
FAQ'S
When do I begin talking to my kids about online safety?
How do I talk to my kids about online dangers?
What is cyberbullying and what do I need to know about it?
How do I keep up with the latest trends and technology?
Should I use filtering, monitoring or both? What is the difference?
Why are Parental Controls only a small part of the solution?
My kids have an iTouch/iPad, how do I place restrictions on Safari?
How can you watch YouTube  videos safely?
What age should kids get an email, blog, text, Facebook, Youtube or Google account?
Should I allow my child to videochat or Facetime?
Can I put parental controls on our home wi-fi to filter inappropriate material when they use their own wireless device?
How do I block inappropriate material if they use the internet on their cell phone?
Stay up to date with our blog through our FREE EMAIL SUBSCRIPTION.
If you have any questions, please email me at cammie (at) cybersafefamily (dot) com.
CyberSafeFamily founder, Cammie Moise and her family use Covenant Eyes, a monitoring, filtering and accountability program.  It is CyberSafeFamily approved and we are affiliated with Covenant Eyes.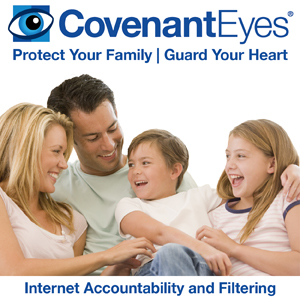 Use the code "

cybersafe

"  and receive

30 days free

.
Thank you for following and connecting with CyberSafeFamily.