Although the internet is a great tool, one click may bring you great content while another brings inappropriate images and text.  So, how do we get to the great content while keeping the inappropriate information out of our search results? One answer is using filtering and monitoring software, often referred to as Parental Controls.
Unfortunately, the answer is a lot more complicated than that.  Parental Controls are part of the solution, but it is not the complete answer.  Parental Controls are not 100% accurate and more than likely your child will still encounter inappropriate information and have access to this information outside your home.   In addition to Parental Controls,  we need to teach our kids how to handle inappropriate content, websites, emails, people, etc.
Norton released the Kid's Top 100 Searches of 2009 for kids 18 and under.  The top 3 searches were YouTube, Google and Facebook.  That doesn't really surprise me, what did surprise me was number 4 for kids 7 and under… porn.  Number 4 for Kids 8 and older was sex. Don't fool yourself into thinking "my kids are too young to search for that" or they know better, they wouldn't search for *fill in the blank*."  Kids are curious, they want to understand what others are talking about and what they see on television or the movies.
Take yourself back to middle school, puberty, etc. Kids are doing the same things we did back then, but they have technology at their fingertips. When I heard a word that was met with a reaction and I didn't know what it meant, I looked it up in the dictionary.  WORDS explained the meaning, not photos or video.  Kids today don't use the dictionary, they "google" it.  When kids  hear the word "porn" met with whispers, cover ups and a change of subject, they become curious.  They "google" the word and if your computer does not have parental controls, they will be exposed to pictures and videos.  If you have not talked about it, they may be too scared to tell you.
We need to talk to our kids and teach them appropriate behavior on and off line.
You may control what comes into your own home, but you can't control what they access once they are in public.  Free wi-fi services are available at coffee shops, libraries, schools, restaurants, hotels and even at some of your friends and neighbors homes.  Many of the technology devices our kids use today have internet capability through wi-fi.  Kids use their cell phones, iTouches, Nintendo Dsi, laptops, netbooks, etc. to access the internet outside their own home.  Most of these free wi-fi services do not manage content that is available online.  Do you have parental controls set up on each of these devices?  Are you aware of which establishments control the content that their guests have access to?
Do you have wi-fi available at your house?  If so, do you know what content is accessible to other kids on their wi-fi devices through your home wi-fi? It is also our responsibility as parents, to control what other kids have access to in our own home.
Take a look at these alarming statistics, I found at toptenreviews.com.
Pornography Time Statistics*

* Every second – $3,075.64 is being spent on pornography
* Every second – 28,258 Internet users are viewing pornography
* Every second – 372 Internet users are typing adult search terms into search engines
* Every 39 minutes: a new pornographic video is being created in the United States
Pornography is a big business and they use their resources to lure kids into their world.  Kids make a typo on their search term and they are frequently led to inappropriate sites.  Once there, they use advertising to keep kids clicking away at these sites.  Explain to your kids, that you know what is out there.  I am sure many of you reading this have  stumbled upon these sites and are aware of what is out there.
Parental Controls are part of the answer, along with teaching your kids appropriate online behavior.
CyberSafeFamily recommends Covenant Eyes for its educational resources and internet accountability and filtering program.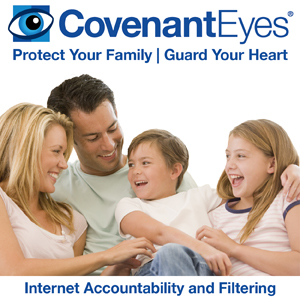 CyberSafeFamily not only uses Covenant Eyes, but is an affiliate and partner in bringing internet safety awareness and education to our community.  Are you protecting your family as you navigate through today's cyber world?  Don't wait until you think you need it, start protecting your family today.
Related posts: